Diamond DA50 RG
Diamond's new first-class single-engine!
-
Jet A1
-
30,3 l/h | 8.0 US gal/h (12.000 ft)
-
5 Seats
-
558,8 kg | 1.232 lbs
-
335 km/h | 181 Kts
-
1.520 km | 820 nm (18,000 ft at 45% horsepower)
Perfect for those who want to stand out flying in a high-tech aircraft, extremely safe and with lots of luxury and comfort. Features of this aircraft include retractable landing gear and JetA1 fuel, which is more cost effective and sustainable for the environment. The DA50 provides a smooth and quiet flight, delivering fuel efficiency and lower CO² levels.
See it in action
The DA50RG impresses pilots and passengers with its smooth and quiet landing gear retraction as it gains speed, and its aerodynamic efficiency. All this consolidated in a safe, roomy and luxurious aircraft, while at the same time more cost effective and environmentally sustainable with excellent performance.
Aerodynamics: The ultimate flight performance
The DA50 RG airframe is constructed of carbon fiber and features state-of-the-art advanced aerodynamics with performance similar to commercial aviation. The rugged structures of the Diamond models have an unlimited life span, without worrying about depreciation at the time of re-sale. In addition, the structure is long-lasting, easy to maintain, and retains its good looks for many years.
Learn about the Diamond Aircraft differentials
Safety
Thinking ahead in terms of aviation safety, just like the best automotive companies in the world, Diamond Aircraft believes that preventing an accident from occurring is the best strategy to protect passengers.
Learn more about the Diamond safety concept
Continental engine and propulsion
Diamond DA50 RG is powered by the Continental Aerospace Technologies CD-300 300 HP engine. The CD-300 is a JET A1 powered, turbocharged, liquid-cooled, Diesel cycle piston engine controlled by a redundant FADEC system. The DA50 comes with the efficient MT Propeller tripod MTV-12-D/210-56 and Garmin G1000 NXi glass cockpit panel as standard. The GFC700 3-axis autopilot system, combined with simple single-handle power controls, offer excellent control, ease of operation and increased situational awareness, reducing pilot workload.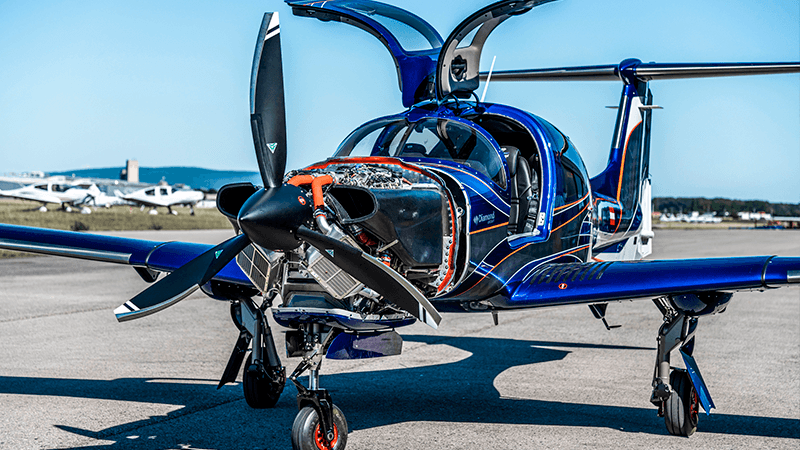 Economy and sustainability
Diamond Aircraft cares about the environment and works to shape a better tomorrow. The DA50 RG is part of the modern Jet A1 range of kerosene powered aircraft, a fuel efficient, low CO² and low noise aircraft. Diesel cycle piston engines (Jet A1) have much lower emissions compared to other aircraft engines, especially those using tetraethyl lead fuel. Jet-A1 is a fuel that is available globally and when used in modern piston engines saves many gallons of fuel and money, especially compared to AvGAS, as this engine burns up to 50% less fuel while delivering the same power. This is efficiency.
Warranty and better performance
The high flight performance of DA50 RG is sustained by several aerodynamic features, such as the dual slot flaps, which ensure high lift and safe handling at low speeds, as well as other drag reduction features. State-of-the-art brakes and wheels ensure the highest runway performance on landings, minimizing the required runway length.
Avionics and dashboard
The Garmin G1000NXi avionics panel integrated with GFC700 3-axis autopilot with Yaw Damper and electronic stability control, is complemented by a long list of avionics options to perfectly match the mission. Available are traffic proximity warning system, synthetic vision navigation system, ice protection system, and more, and the electronic units (LRU) are located on an easy-to-read, fast-acting front panel for easy maintenance and troubleshooting. The Garmin GCU 476 alphanumeric keypad is an option available on the DA50 RG and makes programming the Garmin G1000 NXi easier than ever.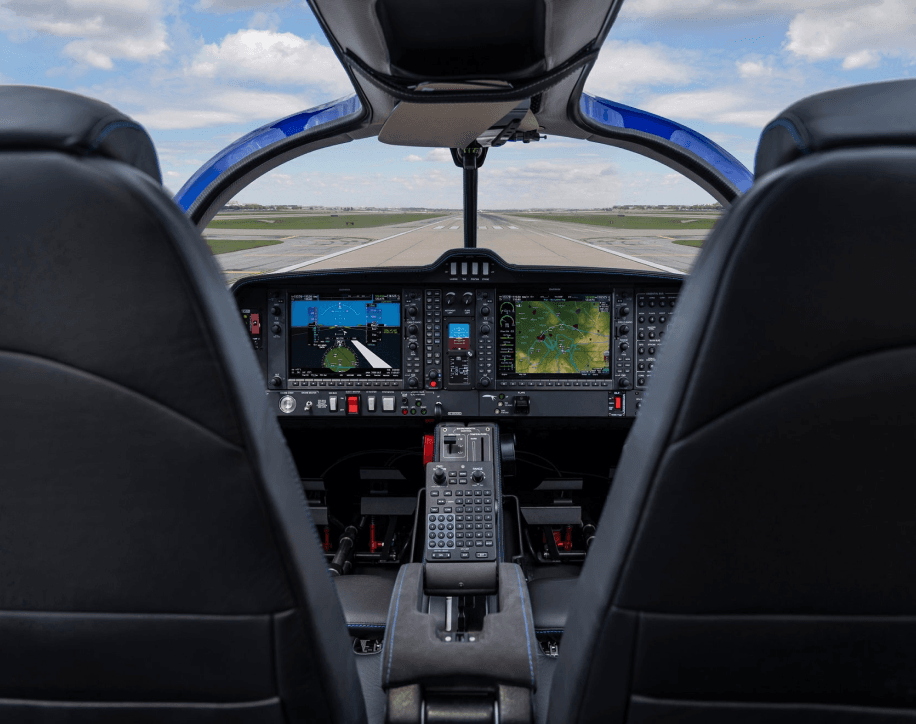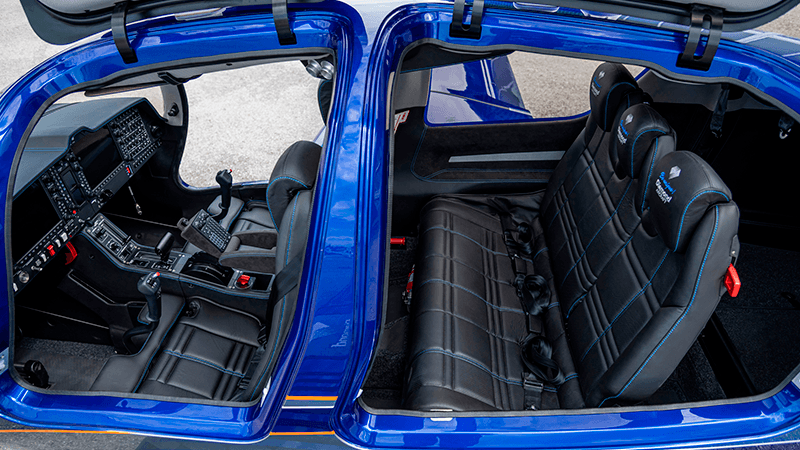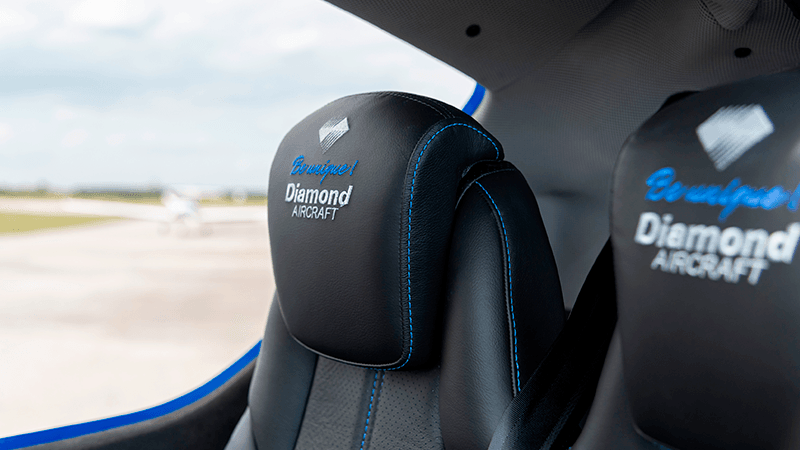 Room and comfort
Just like the cabin of the amazing DA62, the DA50 features generous front seats with adjustable backrests, a 60/40 folding three-seat second row seat, easy access through the large "gull wing" doors, cargo door and exceptional leg, shoulder and head room. In addition, your luggage is safely stowed in the rear of the cabin, offering maximum loading capacity for any type of flight.
Customized DA50
DA50 RG has a variety of exterior colors to choose from, and can even be fully customized with the customer's preferred layout. Diamond also offers several premium interior options for the DA50, in various styles, colors and materials.

Unique Features
Removable right side handle, oxygen system, electric air conditioning, TKS defrost system, Garmin GCU 476 keyboard or a built-in tablet holder, are some of the equipment that can be customized.
Maintenance simplicity
Diamond DA50 maintenance is more simplified and occurs only every 100 hours, which provides greater savings and, above all, availability for the operator to enjoy longer periods for the use of the aircraft in their operations.
Learn more about Diamond Service Center

DIAMOND DA50
We flew the spectacular DA50RG aircraft
Watch the full video on board the DA50: the new first-class single engine produced by Diamond!
Other Business Aircraft Models
A página que vocês está vendo não foi puglicada em português ainda.